Gutter Cleaning R&T Cleaners
Gutter cleaning by R&T Cleaners is achieved by
using an industrial strength "gutter vac system".

This comprises of sections of carbon fibre pole with a
combined reach of 45ft connected to a powerful vacuum cleaner
thus eliminating the need to rest heavy ladders against the gutters.

This method of gutter cleaning is very safe as all
operative are safely on the ground and very effective as
the vacuum is powerful enough to remove all leaves,
debris, sludge and water from the gutters.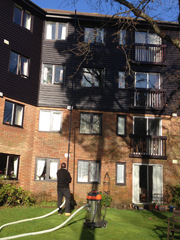 When R&T Cleaners are cleaning gutters using this method we attach
a small camera to the top nozzle and images are wirelessly transmitted to the operative so complete vision is achieved no matter how high the gutters are.

Gutter cleaning by R&T Cleaners mean all high and difficult to reach gutters (i.e.: over conservatories
and lower level roofs) are now
easily accessed.



If you are interested in gutter cleaning then ask R&T Cleaners for a free no obligation quote.



Other services R&T Cleaners offer: